Qualified #1 and ran Low ET of the event!
Western Fuel Altereds at Albuquerque Dragway July 4 & 5, 2014
This year I got serious about trying to put together a tuneup that would go down the tricky Albuquerque track. The first (and biggest) change was replacing the clutch and 3 speed Lenco transmission with a 2 speed LencoDrive. The LencoDrive mates the reliable Lenco planetary transmission with a torque converter. Not only did I think it would make the power more manageable, but it no longer requires the hot, dirty between rounds maintenance we had with the clutch. Because of this change we also did a couple of test sessions at Albuquerque Dragway. Those sessions were very productive and we went into the 4th of July Western Fuel Altered event full of optimism. The only glitch in the program was a broken lifter that wiped out a cam lobe and cam gears during the June 7 test run. We really had to thrash to get everything back together in time for the July 4th race. After we warmed the car for the first qualifying session and checked the valve lash we found that the same valve lash adjuster that had caused the broken lifter a few weeks earlier had loosened up again. That meant that we had to remove the blower and manifold to check the lifter, as well as replacing the rocker arm. Thanks to the hard work of Butch Blackberg, Rick Schouman, Sean Guthrie and Billy Mueller we got everything repaired in time for the first qualifying session.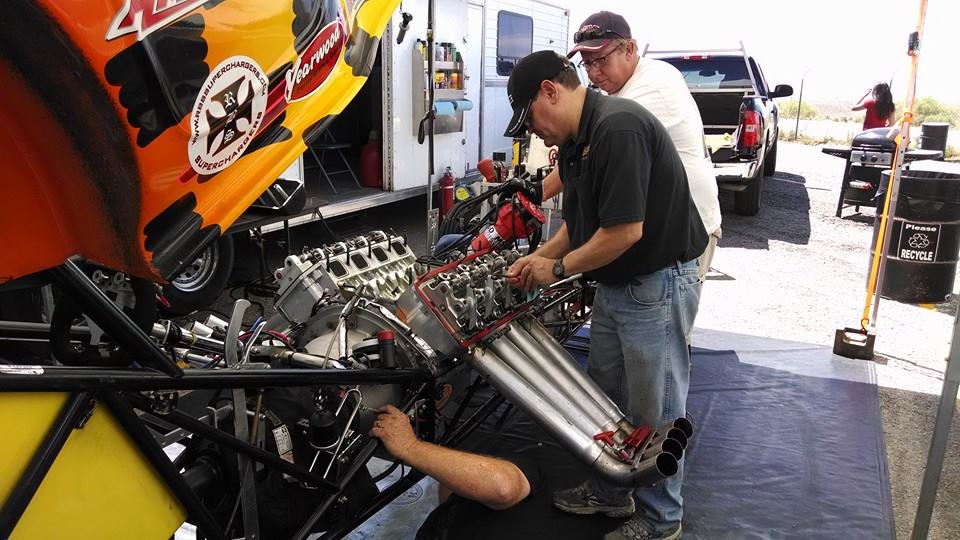 The plan for Q1 was to be relatively conservative and just get down the track. That was exactly what we did, running a 7.13 at 203 mph. One of the surprises from the run was the .008 reaction time. My reaction times have improved by about .05 with the change from the clutch to the torque converter because the car's mechanical reaction time has improved. On top of that, Albuquerque Dragway changed from incandescent starting lights to LED lights. The conventional wisdom is that the LED lights improve reaction times by .04 because they immediately illuminate. Somewhere in that run the rear belly pan got bent down to the point where it was dragging the ground. Fortunately Sean Guthrie and Chris Stinson are excellent at in-the-field metal repairs and they got it whipped back into shape. Everything else looked great, so Lyle started working on a more aggressive tuneup for qualifying session #2. When it came time to run, the density altitude was about the best it would be all weekend. We had a little issue with battery voltage that caused the transmission brake to creep a bit. This contributed to a .002 reaction time that just missed being a red light. With the more aggressive tuneup, the car spun and shook the tires quite a bit from about 200' to about 800'. The spin and shake caused it to make a move to the center line, but it still went a 4.38 ET to half track. I was able to keep the car in its lane and recorded a very quick 6.76 ET at 206 mph. This ended up easily taking the RBS Superchargers #1 qualifier award, as #2 was at a 6.90. On-board video of this qualifying run on YouTube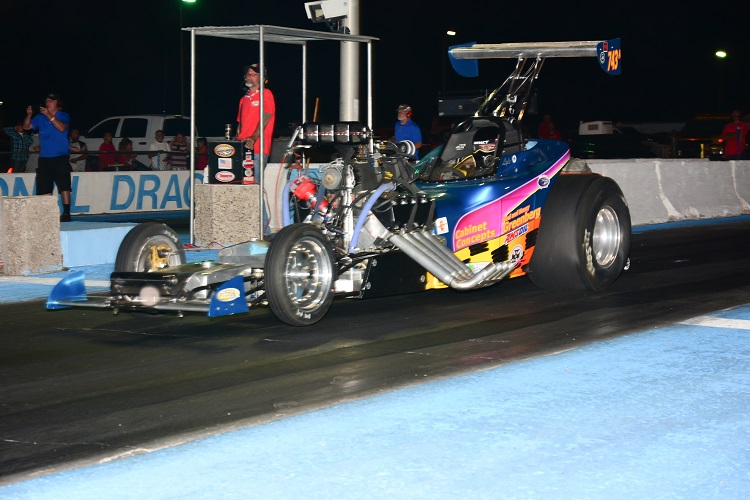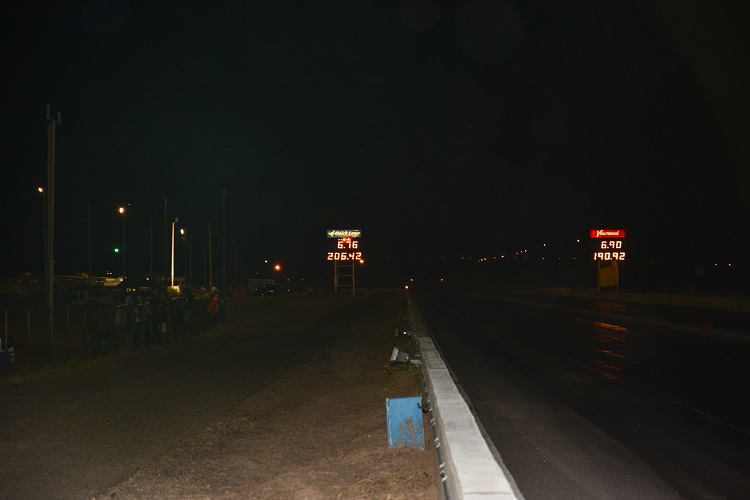 Final qualifying order from Albuquerque Dragway's Western Fuel Altered event, Sat nite July 4. 1. Lyle Greenberg 6.7674/206 2. Eric Gates 6.9093 3. Mitch Bowen 6.9273 4. Greg Holeman 6.9423 5. Sheldon Lofgreen 7.0976 6. Jim Maroney 7.1087 7. Pat Neal 7.2856 8. Mic Williams 7.5375 Did not qualify (alternates) 9. Mike Scott 7. 6494 10. Ed Middlebrook 7.7033 Saturday's weather looked a bit threatening as we prepared for our first round matchup with the Arizona Thunder turbocharged car of Sheldon Lofgreen. I felt that the track would be a bit slicker than Friday night because the temperature was quite a bit higher, so I backed the power level down somewhat. I also wanted to make sure that I didn't red light, so I planned to be a little less aggressive on the Christmas tree. I caught a safe .103 reaction time and even though the power was backed down the car went a weekend best 1.03 to 60'. At about 200' it started spinning the tires and skated towards the centerline. The tire spin also caused quite a bit of tire shake. After flirting with the centerline until after half track I got the car muscled back into the groove. The tire shake broke the welds that hold the front canard wings on the car. At about 800' the left wing flew off and the right wing came off near the end of the shutdown area. We took the win light with a 6.79 ET at 207 mph to Lofgreen's 7.33 at 202 mph. On-board video of Round 1 on YouTube Crew's view of the run on YouTube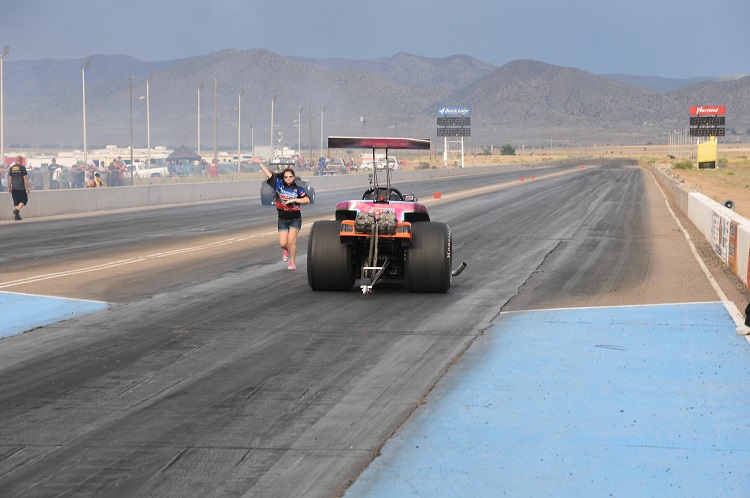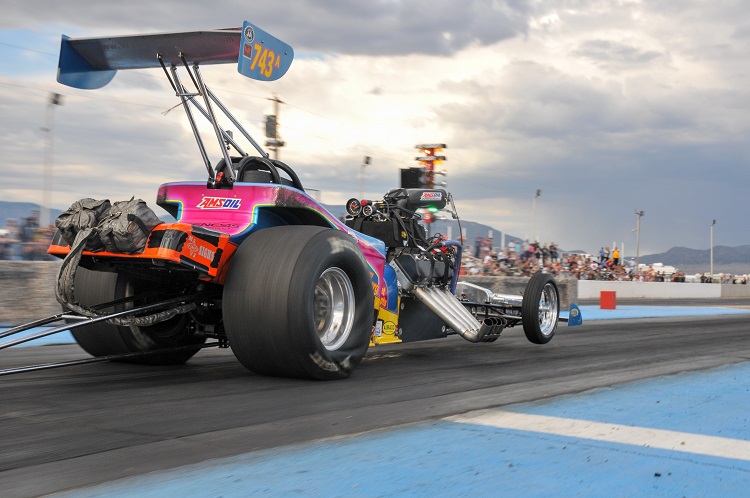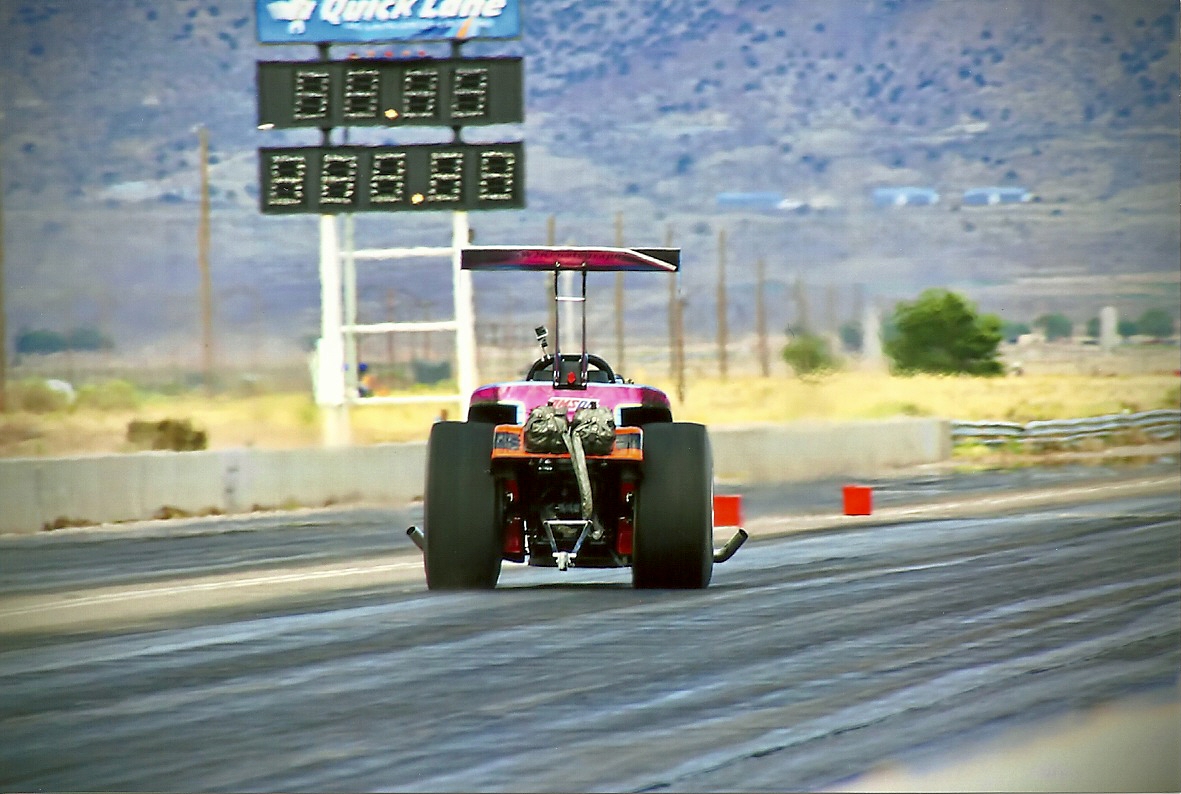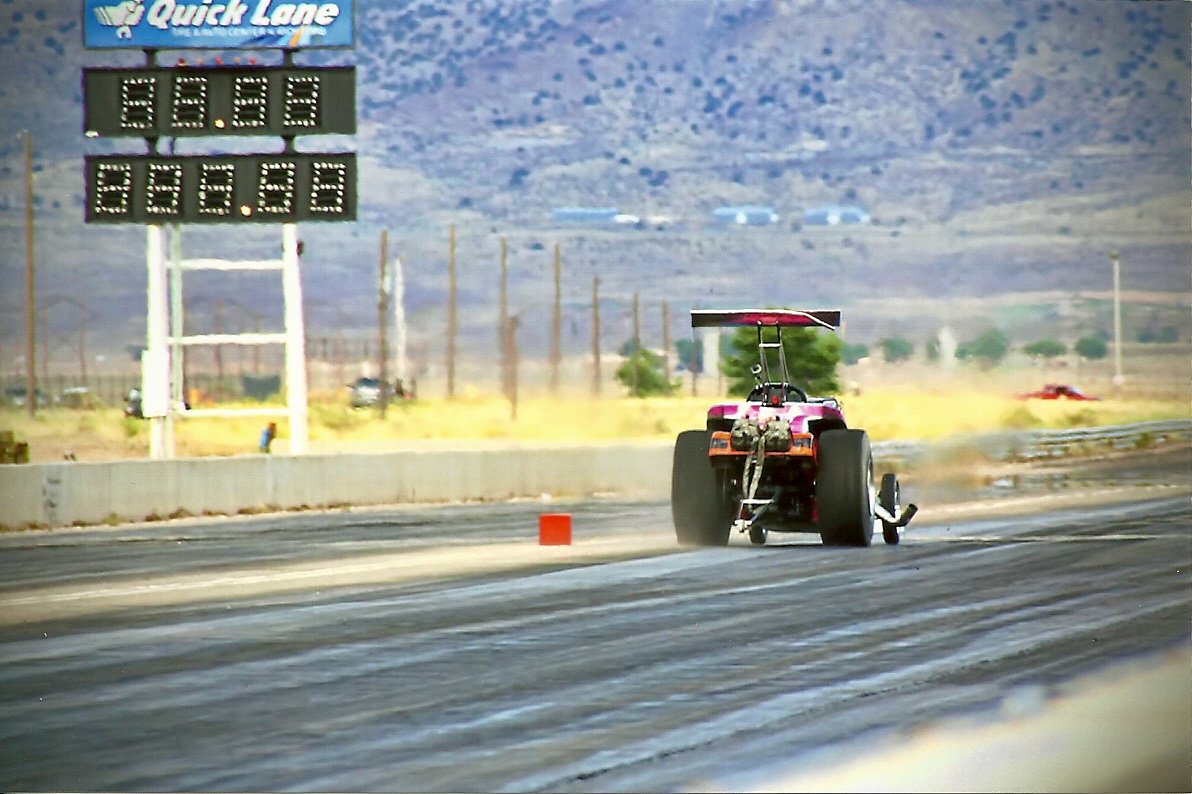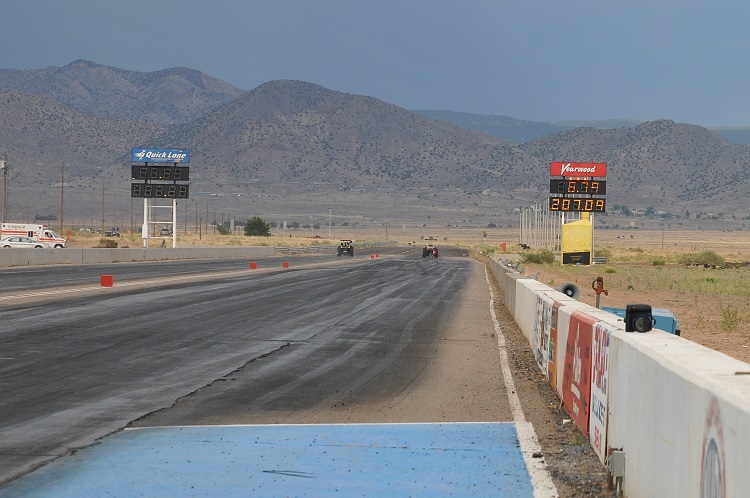 With threatening weather the track wanted a very quick turnaround for the round. With the repairs needed on the front wings and the normal maintenance that we always need to do, we really had to thrash. Fortunately Sean Guthrie and Allan McGee are really good with sheet metal repairs and they were able to make some great in-the-field repairs without the right materials or tools. We were the next pair to run when a large sandstorm kicked up that completely covered the track with dirt. The Altereds portion of the race was postponed until the August 2 event where the Western Fuel Altereds are making a return engagement to Albuquerque Dragway. I'll let you know how the race ends after that! My thanks to the people that work so hard to field our race cars – Butch Blackberg, Rick Schouman, Billy Mueller, Chris Stinson, Tiffany Stinson, Sean Guthrie, Jennifer Guthrie and Rachel Greenberg. Thanks also to our great sponsors – Amsoil/Paul & Nancy Greenberg, Cabinet Concepts, SunCo Equipment, Stinson Metal Fab, Waterjet Cutting, Synergy Coatings, WJRPhotography.com, Car Crafters and Genesis Motorsports. Event Photos on Photobucket: WJRPhotography/Bill Robertson Photos (WJRPhotography.com) Double Barrel Photography/Corey Ringo Photos (Double Barrel Photography.com) Dale Fackler Photos