If You Aren't Fast, Be Spectacular!
2014 Standard 1320/Tucson Dragway Reunion – Western Fuel Altereds May 17, 2014
Drag Racing Online has a nice race report at Western Fuel Altereds at Tucson, Arizona that uses a wheels up shot of our car as the lead-in picture. We had a great time in Tucson last weekend at the Western Fuel Altereds (www.wfaseries.com) season opener at Southwestern International Raceway in Tucson. This event was the Standard 1320/Tucson Dragway Reunion. Big thanks to Paula Roth, Walter Nash, Dan Owens and Nancy Owens for organizing and promoting the event. I have been a member of the Standard 1320 email group since 1998 and was thrilled to be able to bring my altered to run the race. My daughter Rachel Greenberg and I were able to get to the track by Friday afternoon and spend quiet time visiting with our friends and getting a great dinner catered in to the Standard 1320 group. I was so pleased to be able to see many friends, but disappointed at the many people I missed getting to meet. Then we were able to watch many of the cackles that were done Friday night. Saturday was race day, so the socializing had to slow down and the work had to ramp up. The Fuel Altereds were given the opportunity for a test session at 3 pm, but we decided to skip that. As 1st round approached, the temperature started dropping (to a balmy 92*) and I settled in on a tuneup that I thought would go down the track. This was our first competitive outing with the new LencoDrive transmission and we honestly did not expect to hit the tuneup exactly right until we have more data to work with. The format for this race was a classic "Chicago-style" match race. There would be 2 qualifying rounds and then the 2 quickest ET cars would come back for a final round. The track had us parade down in front of the grandstands so that the fans could see the cars. There was a nice crowd that was enthusiastic. We were paired with Pat Neal, so both of us were capable of running good numbers. The track was in great shape and we pulled the front end high off the ground. Unfortunately, the car also started going a bit to the right. I gave it a quick throttle lift (aka "pedal", as in lifted off the throttle pedal) at about 1.2 seconds to make a course correction and then got right back in the throttle. The early numbers were pretty good with a 1.04 60', 2.92 330' and 4.40 to the 1/8 mile. It was also a great race for the fans as I my reaction time was .06 seconds better so, even though Neal ran 4.35 to the 1/8 mile, I was still ahead by .007 seconds at half-track. Unfortunately, a fuel fitting came loose and created a large fuel leak so I shut off at 4.7 seconds, coasting to a 7.35 second elapsed time at 139 mph.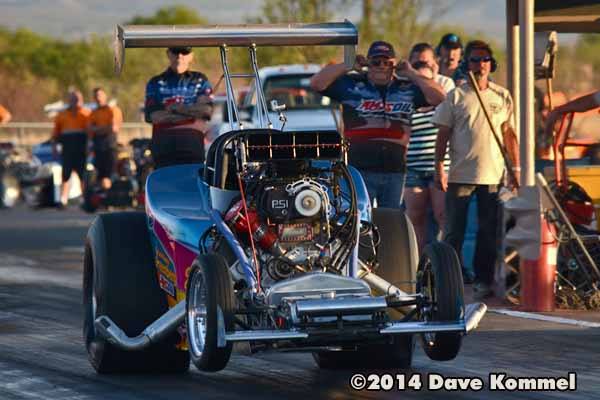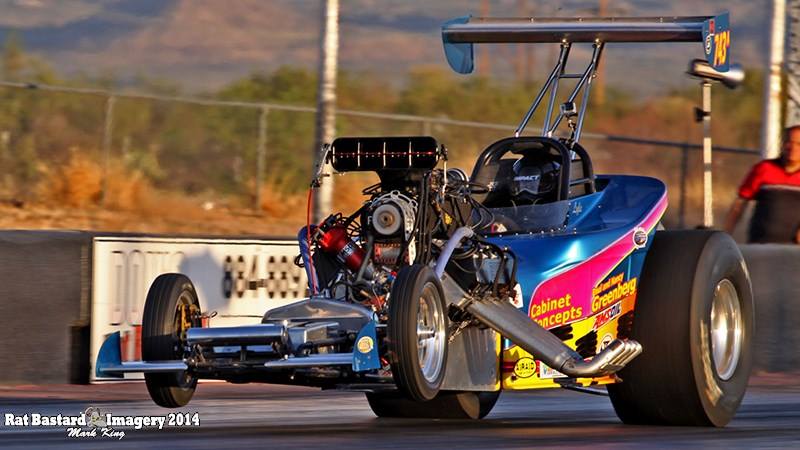 Round 2 found us paired with Mic Williams. Mic is a local Tucson racer and had done quite a bit of testing in preparation for this event and was ready to lay down some big numbers. The 2nd round was also the"Stinson Metal Fab" Burnout Contest. Chris and Tiffany Stinson had put up some money to whoever did the best burnout of the round. Mic told me that he was going to do a long one, so I figured I would too. The pair in front of us had a big oil down from the starting line all the way to 330' in my lane. The track crew worked hard to make the track as good as possible, but I was worried about how good the track would be.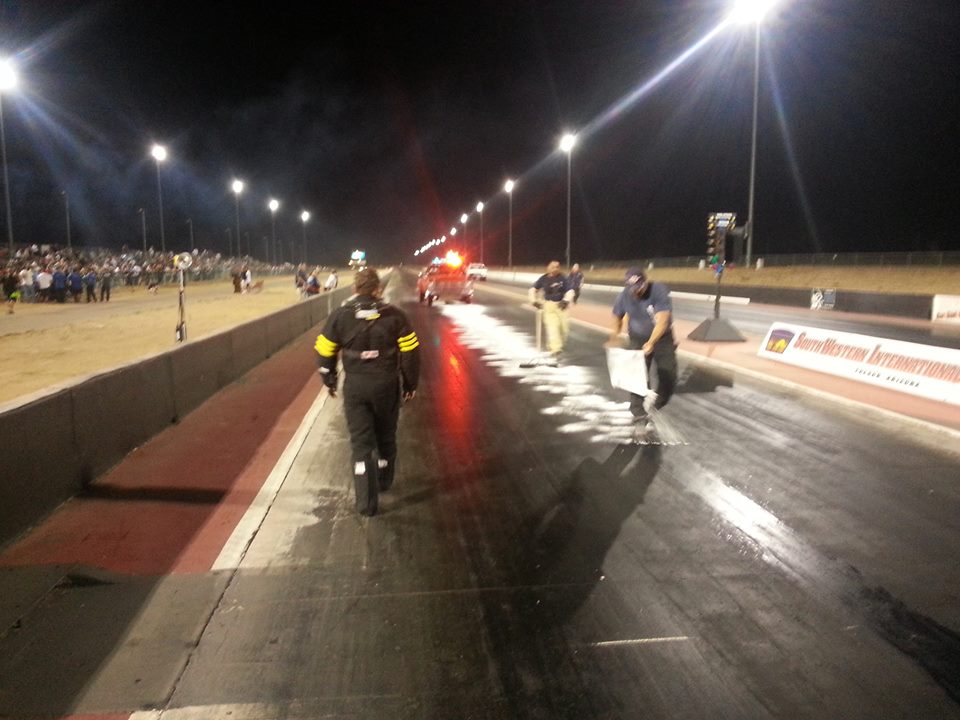 Mic took his burnout to about 800' and I went to about 750'. Basically the fans got to see the best 2 burnouts happen side-by-side. Mic deservedly won the Stinson Metal Fab cash. I had decided to change the launch rpm and lower the wheelie bar a bit to see if we could control the wheelstand. We also made another change to try to get the car to go straighter on the initial launch. The starting line traction was excellent. So good that the car hiked the front end pretty high, but it was going straight so I wasn't too concerned. At 1.2 seconds (about 100'), it must have hit a slick spot as the tires broke loose, the driveshaft gained about 1500 rpm in the blink of an eye and the car shook HARD. One of the carrots that WFA uses to get us to never give up is by only paying the quickest 8 cars of each round. With that in mind I slipped and slid the car the rest of the way, pedaling it a total of 4 times. Mic was having his own difficulties in the other lane. At about 1000', he was about 3' to the right of the centerline and I was about 3' to the left of the centerline and we were literally side-by-side. I was able to drive around him to take the holeshot win. My 7.31 second elapsed time beat his 7.25.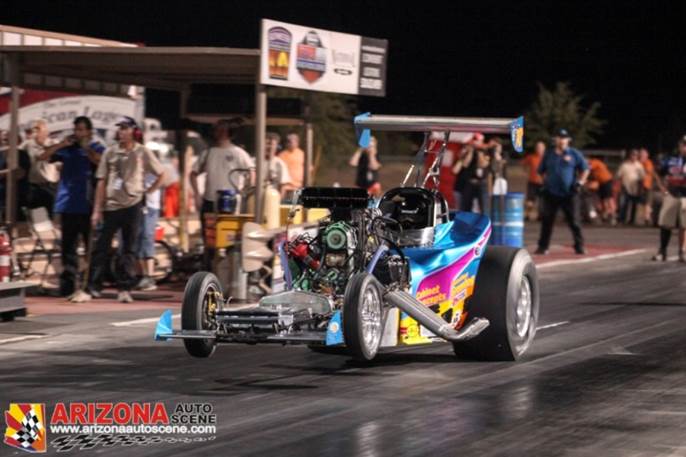 Neither of our runs was good enough to make the final round, but we still had a great time. Afterwards, Rachel grilled up some chicken and potatoes and we had a wonderful meal with all our great crew. My thanks to the people that work so hard to field our race cars – Butch Blackberg, Rick Schouman, Billy Mueller, Chris Stinson, Tiffany Stinson, Sean Guthrie, Jennifer Guthrie and Rachel Greenberg. Thanks also to our great sponsors – Amsoil/Paul & Nancy Greenberg, Cabinet Concepts, SunCo Equipment, Stinson Metal Fab, Waterjet Cutting, Synergy Coatings, WJRPhotography.com and Car Crafters.